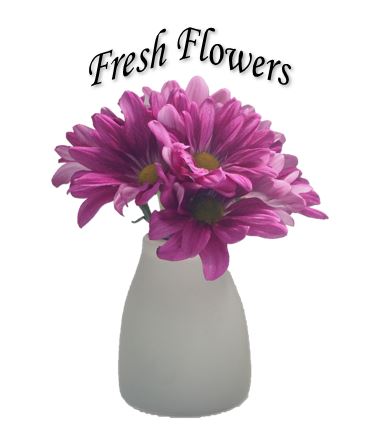 Wishes Can Be Granted!
We love to offer the beauty of seasonal fresh flowers in our neighborhood dining rooms.
Our residents look forward to enjoying their meals in the dining room.  Especially since being isolated during the time of COVID, the touch of fresh flowers and seasonal additions on the table make mealtimes an enriching experience.
As a new "Wish List" suggestion, we welcome interested donors to sponsor the bud vase flowers.  The flowers normally last several days – almost a week!
A gift of $100 will provide fresh flowers for each dining table in the Lafayette and Northampton dining rooms.  For $50, your gift will support enough flowers for one dining venue.  If honoring a special person or occasion, notice of that tribute can appear on the menu.
Please use the donation button on this page or contact the Foundation by email at giving@moravian.com for special instructions such as a specific date etc.
Wish List