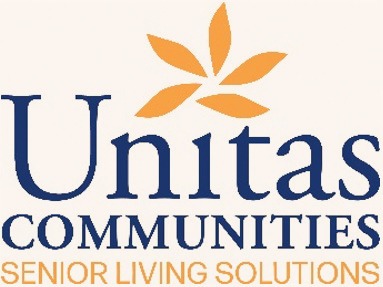 Unitas Communities, established in 2023, is the parent company of Morningstar Living and Moravian Manor Communities. The entity was created as a result of the two communities forming a strategic affiliation, and under which shared services and future endeavors will be developed.
The name Unitas comes from the Moravian heritage, with the Moravian Church officially known as Unitas Fratrum (Unity of Brethern) since 1457. Unitas Communities is focused on the Moravian Church's emphasis in living its motto: "In essentials, unity, in non-essentials liberty, and in all things love."
Despite the affiliation under a parent company, both Morningstar Living and Moravian Manor Communities maintain their own separate, corporate identities and operate separately both financially and legally.
Unitas Communities' Leadership
J. David Swartley, MBA, NHA, serves as President & CEO of Unitas Communities, overseeing both Morningstar Living and Moravian Manor Communities.
The Unitas Communities' Board of Trustees is comprised of representation from both communities as well as that of the Eastern District Synod of the Moravian Church, who sponsored each of the communities years ago to originally serve their aging church population.
Unitas Communities Board of Trustees
| | | |
| --- | --- | --- |
| Christian Brown, Chair | Bernadette Taylor, Vice Chair | Ben Atwater, Treasurer |
| Ted Lewis, Secretary | Brian Black | C. Hopeton Clennon |
| Geoff Eddowes | Rich Harney | Rick Jackson |
| Melissa Johnson | Rex Knowlton | Edward Nawrocki |
| Donna Sabol | | |
To learn more about the other members of our faith-based, not-for-profit family, visit Unitas Communities and Moravian Manor Communities.